Holladay Halloween Cocktails
---
Spooky season has descended upon us, and our creepy Halloween cocktails are summoning you into their grasp!
Holladay Distillery is dying for you to try our Halloween cocktails, so we're giving you a variety of spirits to serve up to your fellow ghouls and goblins.
Speaking of goblins, our first Halloween cocktail claims that name and combines two of our premium spirits, 360 Mandarin Orange Flavored Vodka and KeKe Key Lime Pie Cream Liqueur.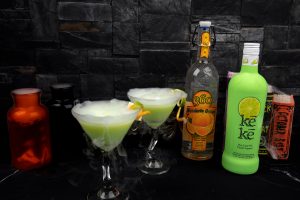 The Goblin
1.0 oz 360 Mandarin Orange Flavored Vodka
1.0 oz KeKe Key Lime Pie Cream Liqueur
2.0 oz Lemonade
Add ice, 360 Mandarin Orange Flavored Vodka, KeKe Key Lime Pie Cream Liqueur, and lemonade to a shaker. Shake and strain into a chilled martini glass. Garnish with an orange peel for a ghoulishly good look.
Our next Halloween cocktail concoction uses Tarantula Tequila and is just the right type of bite.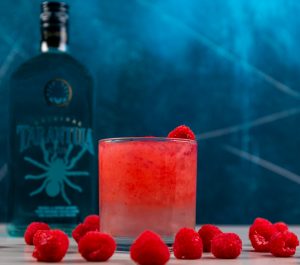 Spider Venom
1.0 oz Tarantula Tequila⁠
0.5 oz Raspberry Puree⁠
0.5 oz Fresh Lime Juice⁠
1.0 oz Tarantula Azul⁠ Tequila
⁠
Shake Tarantula Tequila, raspberry puree, and fresh lime juice with ice and then strain into a rocks glass.
Layer Tarantula Azul Tequila on top and enjoy this menacing elixir.
Something wicked this way comes in the form of a scary good Bloody Mary made with Whicked Pickle Whiskey.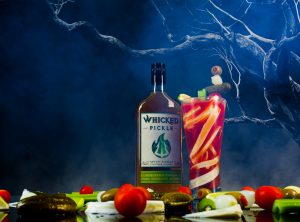 Whicked Bloody Mummy Mary⁠
– 2.0 oz | Whicked Pickle⁠
– 5.0 oz | Bloody Mary Mix⁠
Add strips of cucumber into the glass for the mummy wrap. Garnish with celery and a lime then add a cherry tomato, pearl onion, pickle, and green olive to a cocktail skewer.
Be sure to leave the red pit in the olive for that extra creepy eyeball effect.
Lastly, what happens when a Halloween cocktail combines something beautiful with something beastly? A dangerously delicious shot, starring Tequila Rose.
Tequila Rose Beastly Beauty Shot
1 oz Tequila Rose⁠
0.5 oz Herbal Liqueur⁠
⁠
Pour Tequila Rose into a shot glass and layer with herbal liqueur to give it a bloody, beautiful finish.
Which of our Halloween cocktails are you dying to try this spooky season?