Sample Real Missouri Bourbon
at the Holladay House This Fall
---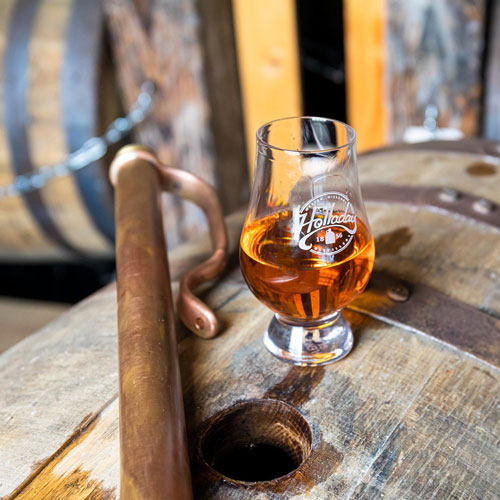 Weston, MO, has a new hot spot this fall at Holladay Distillery's Holladay House, where guests can get an exclusive sample of our Real Missouri Bourbon before it's released.
The Holladay House (also known as The Holladay Welcome Center) is hosting a fall pop-up event on Fridays and Saturdays through October 30th called "Fall-idays at the Holladay House."
Arguably the most exciting part of this pop-up event is the opportunity for guests to sample our Real Missouri Bourbon before it's officially released. Our Ben Holladay Bourbon will be a six-year Bottled-in-Bond bourbon set to hit shelves in spring 2022, but guests can now pay for a sneak peak of the five-year version this fall. With its original recipe from 160 years ago, this Real Missouri Bourbon packs as much history as it does flavor.
Holladay Distillery's brand engagement manager/mixologist has also created nine new specialty cocktails just for the Holladay House, which guests can enjoy inside at the brand new bar. The outside bar will feature two Holladay classic cocktails and an assortment of beer.
The perfect complement to a delicious drink is of course a savory snack. Locally sourced snacks will be available both days, as well the option to grab something from a food truck on Saturdays. Live music will be playing every Friday and Saturday with local musicians like Noah Anthony, Jayson Kayne, Drew Ballentyne, and Drew Six.
Yard games, chairs, and tables will line the drive and Holladay Distillery products and branded merchandise will be for sale inside.
Come fall in love with Real Missouri Bourbon every Friday and Saturday this fall at Holladay Distillery's "Fall-idays at the Holladay House." For more details, visit the Holladay Distillery Facebook page.