360 Vodka was Smokin' Hot at the KC Barbeque Society World Invitational
---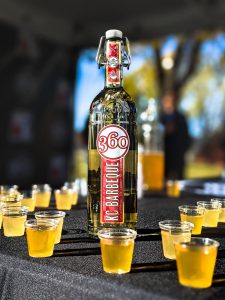 360 Vodka is the Official Vodka of the Kansas City Barbeque Society (KCBS), the #1 organization for BBQ and grilling enthusiasts with more than 20,000 members across the globe.
We were thrilled to be part of the third annual KCBS World Invitational that took place November 12 -14, 2021, in Shawnee, Oklahoma, where 250 teams competed for the title of KCBS World Champion.
360 Vodka was everywhere at the event, from the morning Bloody Marys for the pitmasters, to the traditional "9:22 Shot" to toast to the good luck of all participants.
This year's event also included a 360 Vodka cocktail competition, with contestants using 360 Vodka 80 proof or any of our line of 360 Flavored Vodkas to concoct the perfect cocktail to enjoy with or after all that delicious barbeque.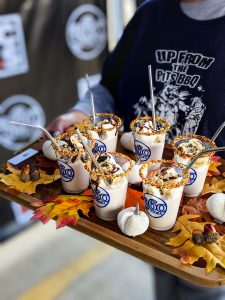 We would've guessed that 360 KC Barbeque Flavored Vodka might be the most-used cocktail recipe flavor, but that did not turn out to be the case!
There were over 50 entries, which were judged on taste, appearance, and creativity. The majority of contestants went for the sweeter flavors to craft a variety of post-barbeque dessert cocktails.
It's clear that these talented pitmasters know how to mix up more than good barbeque!
The winning entry was a Key Lime Pie Cocktail created by Brant Williams of Hot Springs, Arkansas.
If you'd like to try it for yourself, the recipe is below!
Key Lime Pie Cocktail
4 oz 360 Madagascar Vanilla Flavored Vodka
2 oz Fresh-squeezed Key Lime juice
1.5 oz Sweetened condensed milk
1.5 oz Pineapple juice
Rim glass with crushed graham crackers and top with whipped cream.
ABOUT 360 VODKA
360 Vodka is Kansas City's hometown vodka and is a premium brand of Holladay Distillery, the oldest business in the Kansas City area.
We've had some incredible local partnerships with this brand, including the Kansas City Royals and the Kansas City Chiefs, so a partnership celebrating another Kansas City favorite (barbeque!) has been a perfect fit.
Learn more at vodka360.com and by following @360Vodka. 360 KC Barbeque Flavored Vodka is now available across the country. 360 Vodka is the Official Vodka of the Kansas City Barbeque Society | #360vodka
ABOUT KANSAS CITY BBQ SOCIETY
The KCBS is a nonprofit organization dedicated to promoting and enjoying barbeque. From volunteering to actual event production, the KCBS offers educational programs, consultation services, and civic organization presentations to help promote barbeque as America's Favorite Cuisine.