Holladay Thanksgiving Cocktails
---
The first thing that comes to most people's minds when they think about Thanksgiving is, of course, the food. But what about the drinks? No holiday meal is complete without perfectly paired cocktails!
Holladay Distillery is thankful to have some great Thanksgiving cocktails to share with you and your dinner guests this holiday season.
Start with a pre-dinner drink while still saving room for turkey with this light yet impressive Thanksgiving cocktail, starring Broker's London Dry Gin.
The Reviver
1.5 oz – Broker's Gin
0.75 oz – Orange Liqueur
0.5 oz – White French Aperitif Wine
0.5 oz – Fresh Lemon Juice
0.5 oz – Lavender / Rosemary Syrup
Rinse of Absinthe
Add Broker's Gin, orange liqueur, white french aperitif wine, fresh lemon juice, lavender / rosemary syrup, absinthe, and ice into a shaker. Shake until chilled. Strain into a chilled martini glass. Garnish with a rosemary sprig.
It wouldn't be Fall without a pumpkin cocktail option. Warm up with this Triple Crown Blended Whiskey cocktail.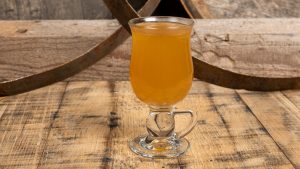 Pumpkin Hot Toddy
1 oz Triple Crown Blended Whiskey
5 oz Hot Water
0.5 oz Maple Syrup
0.5 oz Pumpkin Puree
0.5 oz Cinnamon Whiskey
Combine hot water and maple syrup in a glass and stir until the syrup is diluted. Mix in Triple Crown, pumpkin puree, and cinnamon whiskey to the glass and stir. Garnish with a cinnamon stick.
Drink your favorite Thanksgiving dessert this year with 360 Madagascar Vanilla Flavored Vodka.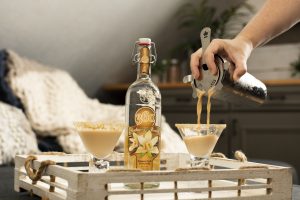 Vanilla Bean Pie
1.5 oz 360 Madagascar Vanilla Flavored Vodka
0.5 oz Simple Syrup
0.5 oz Amaretto
1.0 oz Cream
Graham Crackers
Rim a martini glass with honey and crushed graham crackers, set aside for later. Add ice, 360 Madagascar Vanilla Flavored Vodka, simple syrup, amaretto, and cream to a shaker. Shake and strain into martini glass.
Keep the night going with a Thanksgiving cocktail that has a kick of caffeine and Five Farms Irish Cream Liqueur.
Five Farms Espresso Martini
2.0 oz Five Farms Irish Cream Liqueur
0.5 oz 360 Vodka
1.5 oz Espresso
In a shaker, add all ingredients and shake until chilled. Strain into a chilled martini glass and garnish with espresso beans for that extra boost you need to get you through your Black Friday shopping.