The Holladay Distillery is proud to be a Grand Marshal sponsor of the Parade of Hearts!
---
The Parade of Hearts is a public arts experience located in the heartland of the United States.
Artworks based on the Kansas City heart have been placed around the greater Kansas City area as an example of unification and to make our local communities stronger.
Funds raised by this public art celebration will help pave the way for a more equitable education for tomorrow's students; will help fund medical equipment to treat heart patients impacted by the virus; and will help small minority and women-owned businesses hit hardest by the economic effects of the COVID-19 pandemic.
"As the oldest business in the Kansas City area, we are proud to participate as a Grand Marshal sponsor of the Parade of Hearts celebration. We appreciate the initiative to showcase the entire region, and value being a part of a group that prioritizes giving back to the community," said Patrick Fee, VP of Marketing at Holladay Distillery.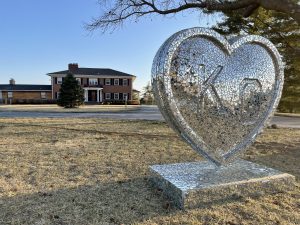 Holladay Distillery celebrates the Parade of Hearts with the sponsorship of four stunning hearts, one of which is proudly on display outside of the Distillery Welcome Center in Weston, Missouri.
He(ART) displays will remain in place throughout the city through mid June, but as a Grand Marshal sponsor, our beautifully "broken" heart is here to stay.  "At every angle and every direction you will see your reflection. It may be broken but we are stronger together!" – Paige Kennedy (HeARTist)
The Parade of Hearts has already raised over 2 million dollars through sponsorships and donations that will be distributed throughout the community.
154 HEARTS. 2 STATES. 1 HEARTLAND.
Meet the talented artists behind our hearts: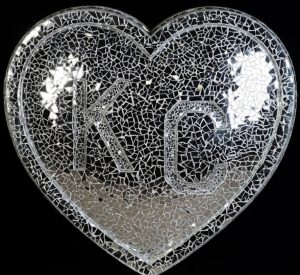 Paige Kennedy – The Art of a People is a True Mirror to Their Mind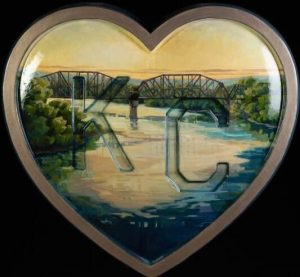 Kristin Goering – Kansas City River View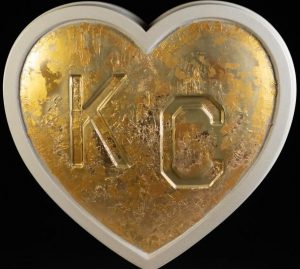 Benjamin McClish – Refined in Fire
Susan Ferguson – Confluence
"As you look at these Hearts located throughout the Kansas City region, start a discussion with the person next to you. Ask them, "What's your favorite part about this piece? What's your favorite color?" The best thing about art is that everybody's "favorite" will be different. I mean, that's the best thing about art. It's okay to be different. It's always okay to be different." – Kristin Goering, He(ART)ist