360 Vodka Halloween Cocktails
---
Let's get right to it – you're here for the BOOzy Halloween cocktail recipes and we're offering all the treats, no tricks! With sixteen different flavor options, 360 Vodka is the perfect addition to your spooky season beverages. Here are some of our favorites…
360 BOOzy Milkshake 👻⁠
⁠6 scoops vanilla ice cream⁠
2 ounces 360 Vodka (or 360 Madagascar Vanilla)⁠
2 ounces amaretto⁠
1/2 cup milk⁠
Blend ingredients together and top with whipped cream and spooky sprinkles!⁠ (Serves two)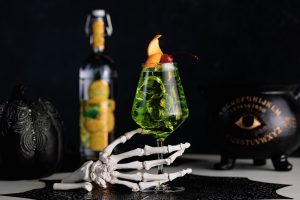 360 Ghouls Drool 🧟‍♂️
2 ounces 360 Pineapple Vodka
0.5 ounce Midori Melon Liqueur
0.5 ounce Blue Curacao
1 ounces Pineapple Juice
1 ounce Lemon-Lime Soda
Combine ingredients and pour into glass with ice. Garnish with maraschino cherry and orange peel.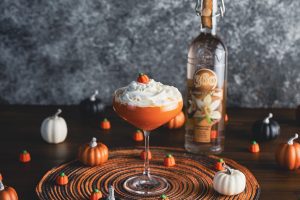 360 Pumpkin Patch 🎃
1 1/2 ounces 360 Madagascar Vanilla Vodka
3 tablespoon pumpkin puree
1 ounce maple syrup
1 ounce half and half
1/2 teaspoon pumpkin pie spice
*Optional: 1-2 drops orange food coloring to bring out color.
Mix ingredients in a cocktail shaker with ice, shake until chilled, and pour into glass. Top with whipped cream and pumpkin candy.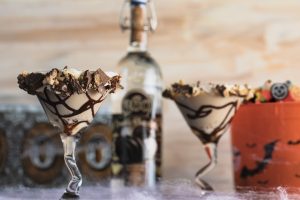 360 Peanut Butter Cup 🍫🥜
1.5 ounces 360 Double Chocolate⁠ Vodka
1 ounce Peanut Butter Whiskey
1 ounce chocolate liquor
1 ounce Five Farms Irish Cream Liqueur⁠
*Optional swap Irish Cream for milk/cream.
Mix ingredients into a cocktail shaker with ice and shake until chilled. Rim martini glass with marshmallow fluff and garnish with peanut butter cup bits. Drizzle martini glass with chocolate syrup and pour chilled cocktail into glass.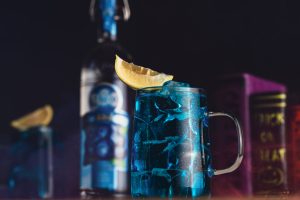 360 Werewolf Blood 🐺
2 ounces 360 Huckleberry Vodka
1 ounce Blue Curaçao
1 ounce Triple Sec
Juice of one lime
1 ounce (or top with) lemon-lime soda
*Optional: 1-2 drops blue food coloring to bring out color.
Combine ingredients and pour into glass with ice. Garnish with lemon or lime.
HAPPY HALLOWEEN!
FINISHED WITH THE CAP? SEND IT BACK!
360 Vodka was created to be the first eco-friendly distilled spirit in the world. With its unique swing-top closure, the 360 bottle was designed for infinite reuse by the consumer. The closures can also be returned for reuse through our "Close The Loop" program. For every closure that is returned, 360 Vodka makes a donation to environmental organizations and other local charities.
You can request a pre-paid envelope made from 100% recycled paper to send your swing-top closures back to us. Before recycling your 360 Vodka bottle, simply remove the swing-top closure and send it back to us in the pre-paid envelope. Allowing us to reduce waste and conserve the resources and energy needed to make a new one.
360 Vodka is a premium product within the family of brands for Holladay Distillery.
Drink responsibly. Drive responsibly. Exist responsibly.
To learn more about the distillery, our bottled-in-bond bourbon, or to book a tour, visit us today at holladaydistillery.com.