360 Vodka Tackles Hunger
---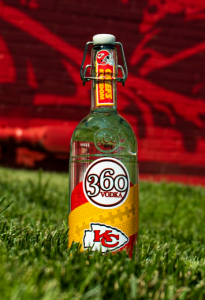 Well, we can't say it doesn't sting a little (or a lot) to be heading into a Super Bowl weekend that doesn't include our Kansas City Chiefs. The extreme highs and lows of having the dramatic win over Buffalo followed by the loss to Cincinnati a week later gave us all a bit of emotional whiplash that it might take a minute to recover from.
But here's a huge silver lining to come out of this year's playoffs. As you all know, 360 Vodka is one of the premium brands of the historic Holladay Distillery and has proudly been the "Official Vodka of the Kansas City Chiefs" throughout these last three fantastic seasons. The Chiefs are but one of many local partnerships that have cemented 360 Vodka's reputation as "Kansas City's Hometown Vodka."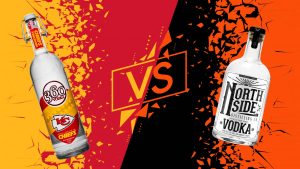 For the playoffs this year, we had a lot of fun partnering with companies in other cities to "Tackle Hunger" in a vodka-centric version of the wagers often made between mayors of competing cities. We've made some great new friends at Boyd & Blair Vodka (Pittsburgh), Mafia Sauce Vodka (Buffalo), and Northside Vodka (Cincinnati). Each week, we made a friendly wager between 360 Vodka and the vodka representing our opponent's city, with the losing city's company agreeing to make a donation to a food bank in the winning city.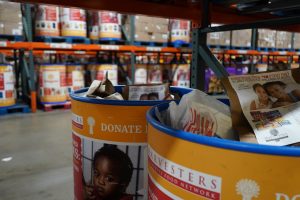 For all three weeks of this campaign, our charity was the Kansas City-based Harvesters Community Food Network, a terrific organization that the Holladay Distillery has worked with on numerous campaigns over the years. We used 360 Vodka's social media channels to amplify the campaign each week and to encourage our followers to think of those experiencing food scarcity. We encouraged donations in the amount of the jersey numbers of favorite Chiefs players and challenged friends and colleagues to match the amount they spent on game day snacks with a donation to Harvesters or their own local food bank.
In the first two weeks of the campaign, our friends at Boyd & Blair and Mafia Sauce Vodka graciously made donations to Harvesters despite their heartbreak. And then we were the heartbroken, and made our own $1000 donation to La Soupe in Cincinnati.
It didn't make the loss hurt any less, but we are grateful to have been part of a fun campaign that connected us to some incredible folks in our shared industry and to help raise money to feed the hungry in all of our communities.