March 8
I've never traveled to the UK, but I've always been fascinated by the spelling and lexical differences that exist between British English and American English.
For example…
In the US, when I drive to the bar to have a glass of beer, I park in the parking lot.
But when I'm in the UK and I drive to the pub to have a pint, I park in the car park.
These more obvious examples, of course, I've picked up over the years by watching television and movies, by reading British authors and meeting people from the UK. Still, I remain oblivious to most of the variations.
I mention all of this because of this post that exploded on the Tequila Rose UK Facebook page earlier this week: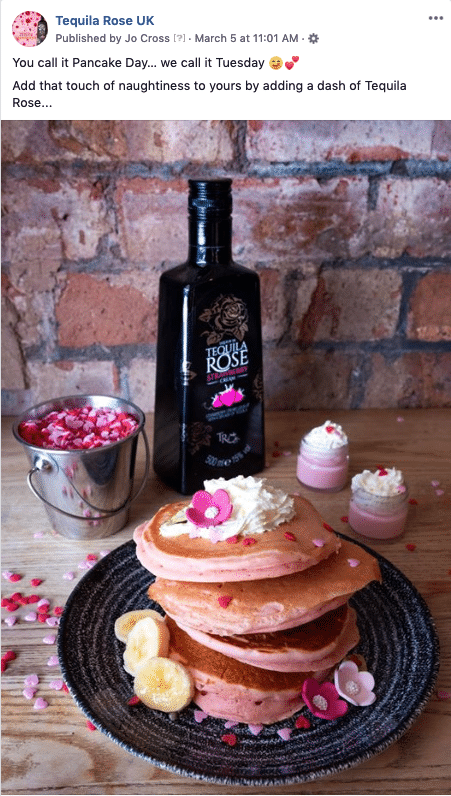 When I first saw this post, I thought, "Pancake Day, what's pancake day? Surely it must be something magical if it has to do with pancakes!" Little did I know that in the UK, Pancake Day refers to Mardi Gras, Fat Tuesday, or Shrove Tuesday (from an Old English word that means to confess). Typically, this day is reserved for indulging in the foods and behaviors soon to be given up for Lent, and — you guessed it — eating pancakes.
I. Had. No. Clue!!! Did you?
Well, the Tequila Rose Pancake Day post was a FLIPPPIN' success, with the highest organic reach of any previous post on the TR Facebook page. It had over 180,000 views and garnered over 19,000 engagements.

Try to top that stack.
©2019 Bottled by Tequila Rose Distilling Co., Weston, MO. 15% alc./vol. (30 Proof) Certified Color Added-Contains Caramel Drink Responsibly. Drive Responsibly.