January 30
Oh, Valentine's Day. The holiday of doting on your better half, satisfying the sweet tooth, and braving the waitlist at your favorite restaurant so you can share that special V-Day dinner at a romantic table for two.
But what if you didn't have to wait. What if, there was a place where you AND your partner could be doted on at the same time? What if you found a place that offered a three-course dinner and dessert set to a soothing backdrop of live local music?
Is it possible?
Can it be done?
You bet your bourbon barrel, it can happen, because this year, we're serving up something special for Valentine's Day: The Holladay Valentine's Candlelit Dinner.
Our Valentine's Day special beats out the typical romantic date night with a lantern-lit tour of the beautiful and historic Holladay Distillery grounds, live music by Noah Anthony, a three-course candlelit dinner, and three signature love-inspired cocktails.
Guests will also have an opportunity to sample (and fall in love with!) Five Farms Irish Cream, the highest-scoring Irish cream liqueur in history. 
Tell your couple friends! Alert the lovebirds in your life!! Share the love by sharing this link.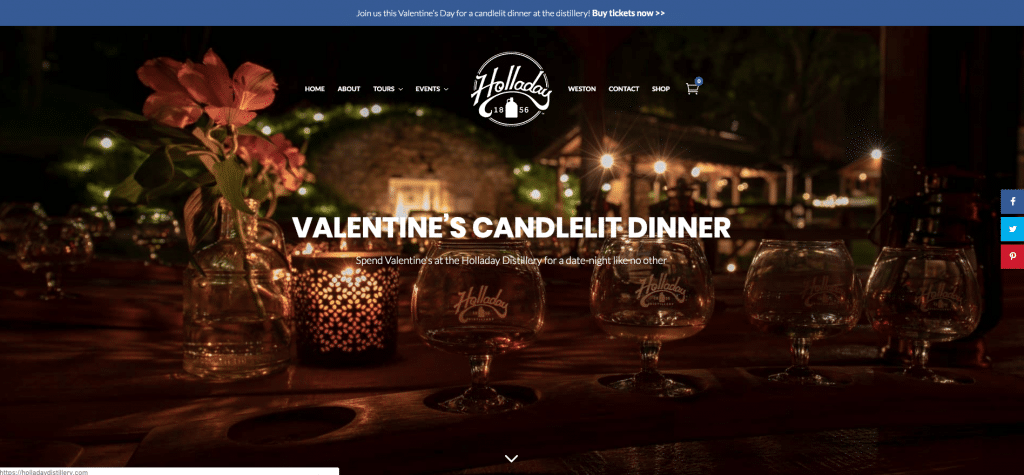 ©2019 Imported by Holladay Distillery, Weston, MO. Product of Ireland. 17% Alc./Vol. (34 proof) Contains Caramel Color. Drink Responsibly. Drive Responsibly.