January 23
Remember when the Tequila Rose pudding shots went viral? I do, and I distinctly recall the domino effect of press mentions that followed. The post blew up on social media, reaching millions and being shared by fans over 150,000 times. It caught the attention of several news sites, including OK!, Cosmopolitan, and Pretty 52, highlighting Tequila Rose as "the summer drink we all need in our lives."
A 2017 post featuring yummy Tequila Rose-infused strawberry cupcakes was a similar success story. And now, at the top of the new year, Tequila Rose makes it into viral territory yet again with another dessert-inspired post.
One of our fans created this Tequila Rose cake, complete with Tequila Rose minis and glitter-frosted strawberries, and the post garnered almost 300K views in a few hours after going live. It's been picking up steam ever since. To quote the post, "Have your cake and drink it too."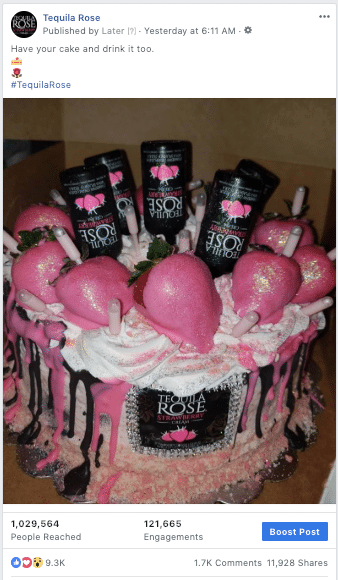 ©2019 Bottled by Tequila Rose Distilling Co., Weston, MO. 15% alc./vol. (30 Proof) Certified Color Added-Contains Caramel Drink Responsibly. Drive Responsibly.