October 15
Looking for the perfect holiday gift? Then look no further! Tomorrow is the Welcome Center's Employee Merchandise Sale, and this year, the folks at the Welcome Center have arranged three different times for employees to shop:
8:30 a.m. – 10:00 a.m.
12:00 p.m. – 1:00 p.m.
3:00 p.m. – 4:00 p.m.
Here's a sneak peek at two of the long sleeve items that will be available at tomorrow's sale: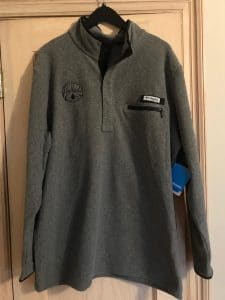 ---
Holladay Grey Columbia PFG Unisex Pullover (Pictured Left): Warm, cozy, and perfect for cold winter days. Only a few sizes left!
Holladay Columbia Full Zip Ladies Fleece Jacket (Pictured Right): Great layering piece and stylish to boot. Small quantity left for purchase!
You don't want to miss out on these delicious deals.
Until next time, have a great week!