Privacy Policy
Holladay Distillery takes the protection and proper use of your personal information seriously. We respect your privacy, and take great care to safeguard information in our possession. Your preferences for use of your information are our highest priority.
Holladay Distillery does not share customer information (including e-mail addresses) unless it is necessary to provide you with Holladay Distillery products or services, or we are legally required to do so.
We restrict internal access to your information to those individuals who need it to provide you with services. Any third-party companies we must use to provide you with services are required to keep your information secure and confidential.
Holladay Distillery is happy to provide further details of our privacy policies. For more information, please contact us.
Close
California Supply Chains Act
McCormick Distilling Co., Inc. is a distilled spirits company located in the United States, doing business in the domestic and certain foreign markets. We comply with federal, state, and foreign laws regarding labor practices wherever we operate.
The California Transparency in Supply Chains Act of 2010 (SB 657) ("Act") seeks the elimination of slavery and human trafficking from product supply chains and requires that large companies who do business in California disclose their efforts toward the elimination of slavery and human trafficking. The information below relates to our efforts to comply with the Act.
1.) The vast majority of our suppliers are located in North America, principally in the United States, and in the European Union. To the best of our knowledge and belief, no supplier to our company, whether located within or without the United States, has ever been accused of engaging in forced labor or human trafficking.
2.) We reserve the right to audit our suppliers operations to ensure compliance with the Act. Currently, audits are not regularly performed by the company or an independent third party.
3.) Our purchase orders and supplier contracts will now contain an express representation that each supplier will comply fully with all applicable laws prohibiting human trafficking and slavery and that any violation of such laws are cause for immediate termination of our contracts and orders. We will terminate our contract with any supplier found to be in violation with our policy on human trafficking and slavery.
4.) To further our efforts to eradicate human trafficking and slavery from our supply chain, we have now asked suppliers to return a signed statement to us acknowledging that they support the elimination of forced labor and human trafficking.
5.) Our Employee Code of Conduct requires that company personnel try to ensure we work only with reputable suppliers. Employees annually affirm their compliance with our Employee Code of Conduct, but we have no formal training related to the issue.
Close
Limestone Spring & Cistern
Holladay Distillery
Limestone Spring & Cistern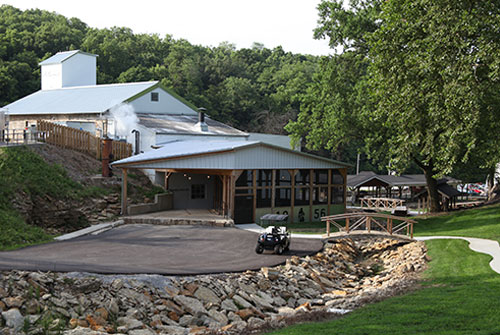 When Lewis and Clark set out to explore the west in 1804, they passed through what would later be established as Weston, Missouri. On this journey, they charted the very first discovery of the limestone spring located on site.
Over 50 years later, Ben and David Holladay began to speculate that the spring could provide an ideal water source for the distillation of spirits.
The hand dug cistern dates back to the 1800s and is approximately 15 feet wide and 35 feet deep, holding over 45,000 gallons of limestone spring water.
< BACK TO MAP
Holladay Distillery
Forest 360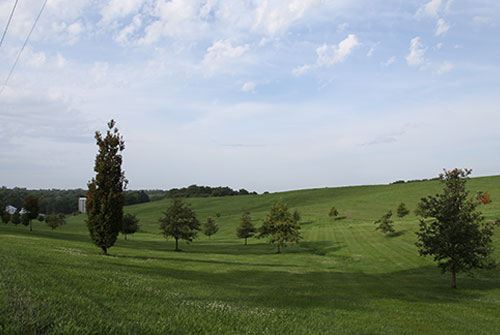 Alongside the Missouri Department of Conservation, the distillery established Forest 360, an effort to plant indigenous trees on 40 acres of the land surrounding the plant.
.
< BACK TO MAP
Bottle Shop
Holladay Distillery
Bottle Shop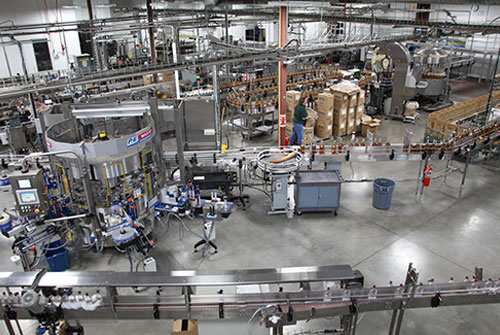 State of the Art high speed bottling facility with multiple lines to run products of all shapes and sizes.
< BACK TO MAP
Barrel Warehouse C
Holladay Distillery
Barrel Warehouse C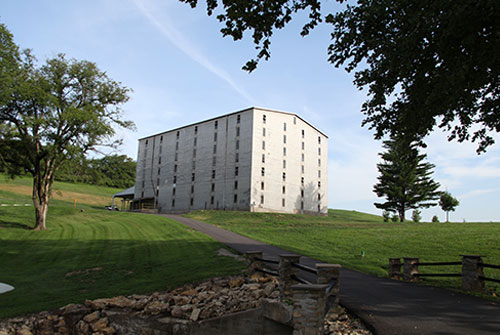 Thousands of barrels full of whiskey have been aged to bourbon in C Warehouse, the third aging warehouse constructed in the early 1950's.
< BACK TO MAP
Ancient Cave
Holladay Distillery
Ancient Cave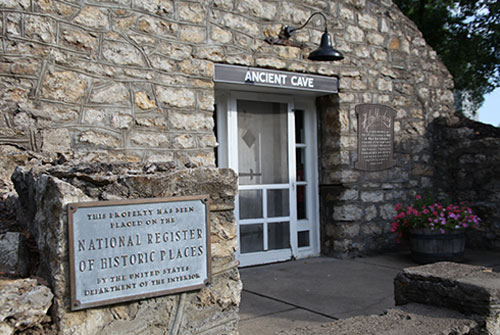 Dating back to 1839, the cave was originally constructed as a meat locker for beef that came from cattle raised on site. The cave has since been repurposed as a common area for meetings and events. The cave is listed on the National Register of Historic Places.
< BACK TO MAP
Stillhouse
Holladay Distillery
Stillhouse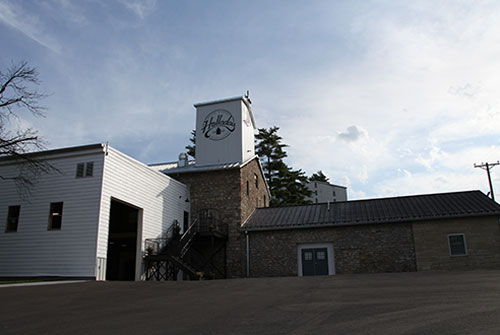 The original stillhouse dates back to 1839 when it was built as a meat packing house. The building was repurposed in 1856 as a stillhouse where Holladay products are still distilled today.
< BACK TO MAP
Distillery Map Welcome Center
Holladay Distillery
Welcome Center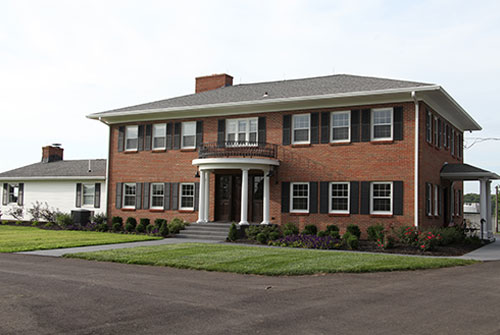 The Holladay Tour Experience begins and ends at the newly remodeled Welcome Center. Visit us to purchase tour tickets, explore historical artifacts and shop in the Holladay retail shop. Enjoy a refreshing cocktail and famous "Holladog" while taking in the view from our beautiful deck.
< BACK TO MAP